Today we will be looking at what we call "Flex 6" and overall draft strategies. As we discussed, there are 6 spots on each OOTL roster which will vary in makeup based on an owner's strategy. These positions will all strengthen your roster, but with our limited roster size, the downside is that while you get better in one area you are also sacrificing another area.
The key for strategic use of these positions is to improve enough that you are mitigating any glaring team weaknesses. A simple example: If your starter and backup at a position both have poor fielding grades, it is prudent to draft a player that can act as a defensive replacement. But that is only one example of these 6 Flex spots.
We will start by identifying each category below. The two most popular categories accounting for 50% of the 60 Flex positions are players with no value this season. The other four categories collectively make up the other 50% of the 60 positions and are used as a strategy to help out the team this season. Each team's two Prospect players are not included below: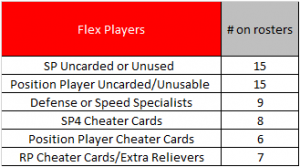 THE FUTURE STRATEGIES:
1) SP's Uncarded or Unused for this season: This category represents 25% of the total Flex 6 players. Several teams use a strategy of stashing high upside starting pitchers with low current grades in the minors for use in future seasons. Others stash veteran uncarded or poorly graded pitchers in the minors in hopes that they will bounce back from an injury or bad season next year. In this service's opinion, it can be a very effective strategy, but should be limited to one position which has no value for this year. If a SP from this group can be used for a couple of emergency starts or as an emergency reliever, then we support this player. If not, we recommend moving on from these players beyond one roster spot. The roster spots are too valuable and to protect more than one player which has no value is too much of a sacrifice in the present season.
2) Position Players Uncarded or Unused for this season: This category represents another 25% of the total Flex 6 players. Basically the same definition as the above but applied to position players. Our recommendation is relaxed a bit with position players because they can be used in a variety of ways and it is a rare situation where a carded position player has no value whatsoever. For those players and uncarded ones, again our recommendation is no more than one total roster spot should be reserved for a player with no value in the present season.
We understand an owner's dilemma with the above groups. You draft a Top Prospect with huge upside and he has an unusable card after you took away his prospect status. What do you do? Some teams will tend to hold on to these guys regardless for years. Others will cut bait. We gave our opinion and we also have a new idea to solve the dilemma. Our service refers to both groups as Veteran Prospects and we are proposing a rule change for the 2017 season. (See end of this post.)
THIS YEAR STRATEGIES
3) Defense or Speed Specialists:
4) SP game 4 playoff Starters Cheater Cards:
5) Position Player Cheater Cards:
6) RP Cheater cards & Extra Relievers:
Team-by-Team Strategy Look at Flex 6's: Subjective and in some cases other players could apply along with multiple categories (just listed/not ranked)
Asians: 1 RP Cheater (Hinojosa), 2 PP Cheaters (Gutierrez, Rayburn), 3 Defense/Speed Specialists (Revere/Marte/Ramos)
Sacrifices: SP4, Mid-level starts, Additional top graded reliever, Future prospects
AB's: 1 PP Uncarded (Profar), 1 SP Veteran Prospect (Cosart), 1 Cheater Starter (Eichoff), 2 Def/Speed specialists (Gardner,Pillar) and 1 Extra Reliever
Sacrifices: Top Grade Starting Pitcher, Power and Hitting Bench options
Browns: 2 PP Veteran Prospects (Wright, Ramirez), 1 SP Veteran Prospect (Paxton), 1 Cheater SP4 starter (Gilmartin), 1 Def/Speed (Segura), 1 Cheater RP (Albers)
Sacrifices: Mid-level starts, 2nd Big hitter to complement Morales, 3rd C with plus arm, 1B4 full-time.
Bees: 4 Cheater RP's (Capps, Givins, Vizcaino, Verhaven), 2 Veteran PP prospects(Polanco, Zunino)
Sacrifices: SP depth and future prospects, C+ arm, Big Hitter DH/bench
Eliminators: 4 PP Veteran prospects (Spanberg, Bruce, Mauer), 2 SP Veteran Prospect (Pineda, Nelson), 1 Def/Speed (6th OF)
Sacrifices: Mid-level SP, Top level RP's, 3rd C +throw
Plague: 3 Veteran SP prospects (Alverez, Darvish, Collmenter), 1 SP4 Cheater (Matz), 2 Veteran Prospect PP's (Santana, Hunter)
Sacrifices: Top relief, 3rd C +arm, Big Hitting Power card
Lemonheads: 3 Veteran SP prospects (Stroman, Wheeler, McHugh), 1 RP prospect (Walden), 2 Def/Speed specialists (Bradley, Pompey)
Sacrifices: RP innings, 3C def/+arm,
Speakers: 2 Cheater SP4 prospects (Severino, Blanton), 1 Cheater PP (Hernandez), 1 SP Veteran Prospect (Bradley), 2 Veteran PP prospects (2 of Rendon/Wang/Odor)
Sacrifices: Top level RP's, Relief innings, Big Hitting bat.
Wahoo's: 2 Cheater PP's (Blanco, Colabello), 1 Veteran Prospect PP (Meseroco), 3 Veteran Prospect SP's (Wainewright, Cobb, Bauer)
Sacrifices:  RP innings, Mid-level starts, 3C vs. R, Speed
Stars: 2 Cheater SP's (McCalister, Wilson), 1 Cheater PP (Casali), 2 Def/Speed (Alonzo, 3C), 1 Veteran SP prospect (Descalfani)
Sacrifices: Big Hitter on Bench/DH, Def OF, 1B vs. LHP
Overall OOTL 3 Year Draft Strategy:
Below is a chart showing the top 10, 20 and 50 picks in the past three drafts. Some interesting notes include:
1st 10 Picks: SP's decreased from 6-5-4. PP's went from 4-3-6.  RP's & Prospects 0-1-0 across the three years.
1st 20 Picks: RP's roller-coastered 3-7-0, SP's were flat 9-8-8, Prospects decreased 2-1-0, PP's down then soared this year 6-4-12.
1st 50 Picks: SP's flat then decrease 17-17-13, RP's grew 10-14-13, PP's grew slightly 19-18-21, Prospects fell then rose again 4-1-3.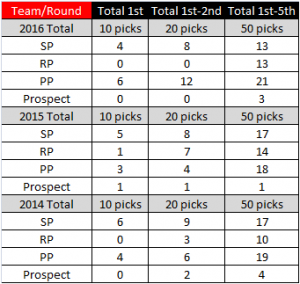 In the next edition we will tackle Relief Pitching! Below is the Rule Change Proposal:
Rule Proposal: Create 2 new Veteran Prospect roster positions thereby expanding the overall roster to 38 players
1) These players are ineligible to play in the upcoming season so they will not increase an owner's options or in-game moves.
2) Any current roster player who is carded or has been previously can be made a Veteran Prospect for one season.
3) Any drafted player presently carded or previously carded can be made a Veteran Prospect for one season.
4) Once traded or when the season ends these players will lose their Veteran prospect status.
ASSN