Last night the Speakers finished off the Bastards in true championship form by taking games 4 and 5. My team battled as usual; but, I was up against a steam roller of great rolling. but more importantly, better players.
Brian's continued Draft success finally paid off as homegrown's like Rizzo, Machado, Bryant, and even Mookie woke up in game 5 – as they all came through. Also the guys that were filtered in from THE ROLLING MATLOCKS were key in the series – Price, Kinsler and Cespedes.
At least the best drafter of young talent in our league picks last every round next year, but it probably won't matter as splits are splits and stiffs are stiffs to some. I'm still bitter he said Cody Bellinger's name the round I was finally taking him last year. Totally my fault, I waited too long. You can't wait on Brian. He will pounce on the future!!!
I'll wrap up with a story about him pouncing on a little known guy way, way back in the day by the name of Albert Pujols. A decent player, who oddly enough in this league only ever played for the Speakers. Well a former teammate of his on the Speakers, David 'Big Papi' Ortiz, played his final OOTL game last night.
Papi helped the Speakers win a title or two, as well as the Tsunami's and the Bastards win theirs. Brian and I think that no player has won more in the OOTL than Big Papi. Well Big Papi and I congratulated the new Champ with this card.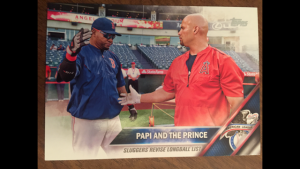 It was a perfect ending an OOTL career, World Series title run and another OOTL season. Congrats again Brian!!!
PS – I just remembered my little pep talk email I sent out prior to the playoffs starting. Man I'm stupid. Lol. Just kidding.
Manager Steve