We again thank Manager Kevin for hosting our annual Rookie Draft on Sunday, February 21st. The facility is perfect for keeping warm food warm, cold food (and beer) cold, providing electrical outlets throughout the spacious drafting room, and even coffee on-demand.
Our agenda begins on a somber note as we recognize the recent loss of Bob Silks and his Birds of Pray franchise. As we share around the table, the fun baseball memories with Bob lighten our spirits, just as he would want. Bob Boyd adds a thoughtful touch by placing Bob's team before an empty seat at our table, because he remains with us in memory and spirit.
President Brandon follows by introducing our newest OOTL member, Tony Champa. Tony actually finished the 2015 season by taking over the Devil Dogs franchise and renaming it the Shartlesville Browns. Welcome, Tony!
Of course, we continually seek new members to join our ranks. We invited potential expansion managers who had other commitments today; however, we're hopeful that they'll follow through with watching a few series this season and getting the OOTL fever for 2017 and beyond.
We recognize the 2015 OOTL champion with our trophy and plaque presentation. John Ingiosi's Lymebees finished the regular season in first place and had little difficulty in the playoffs to win their very first OOTL championship.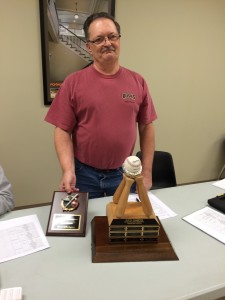 John is also the first recipient of the newly renamed Silks-Williard trophy, now honoring two OOTL members. Congratulations, John!
League officers continue as in 2015 except for vice-president as Craig abstains due to geography. Steve accepts the nomination unopposed to become our new VP. Brandon continues as president; Bob as Secretary-Treasurer; and, John and Kevin remain alternates to the executive committee.
Player of the Year voting results:
1 – Michael Brantley (The Plague)
2 – Adrian Beltre (Lymebees)
3 – Jose Altuve (Birds of Pray)
Pitcher of the Year voting results:
1 – Chris Sale (Eliminators)
2 – Adam Wainwright (Unhinged Wahoos)
3 – Johnny Cueto (Asian Tsunamis)
Clarifications
Brandon will contact Alice to clarify new electronic contact data for Ed.
Forfeits – In order to eliminate the possibility of a forfeit, which occurred during 2015's 3rd period, we discuss Brandon's alternative and agree on a simpler version: Use the last (or currently) available relief pitcher from the active roster who may have been ineligible due to Batters Faced or season Innings Pitched.  That relief pitcher would begin (or continue) as a 1* -66 -66. If season IP are not exceeded, the RP would be subject to fatigue moving forward. Approved 9-1.
In addition, a clarification: any negative control pitcher must visit the pitcher grade chart on a roll of 12 or 35 before giving up a walk. With any negative control pitcher on a hit-and-run play, go directly to the steal chart. The count on the batter is 2-0.
Playoff rotations – What are the requirements?  Are they necessary?  An issue occurred in a series during the playoffs where one team wanted to adjust who was going to start specific games within a series.  Result: Starters for the first three (3) games must be announced. Once a roster is submitted to the executive committee, it is final.
Tiebreaker rules for draft position – What needs to be added to the constitution to avoid future issues like the multi-step tie we experienced this year between the Tsunamis and Wahoos. Result: Series wins as a 3rd tie-breaker; run differential as a 4th tie-breaker for draft position.
Switch to updated Master Game booklet version for play results – Brandon requested that Craig bring his copy of the booklet that APBA created as an update to boards. Brandon thought that we could review this to see whether it would be something that we wanted to adopt in the future. Result: Tabled for now. All of us wish to review the booklet.
Rules Discussion and Proposals
Eliminate Rule 2.12  (e) Play result (26) on Second Base board requires a defensive roll for fielding: Fielding 1 – Batter out at 1st, runner holds A-4, PO-3; fielding 2 & 3 – Batter out at 1st, runner advances 1 base A-4, PO-3.  Follow exactly what displays on the boards. (Steve) Passes, 8-2.
Any catcher that catches 12 innings in one game is ineligible to start the following game. (Ed) Passes, 10-0.
Continue to use realistic runner advancement (brown board) at the discretion of both managers for any series. (Brian) Passes, 10-0.
Board result 30, 31 or 32 with Runner on 1st, Runner on 2nd or Runners on 1st and 2nd: increase each Hit Valuation Number by 10 6 on fly out advancement attempts.  (Brian) Passes, 7-3.
A relief pitcher may not exceed two innings in an appearance unless one of the following criteria is met: 1) Designated Long Man – Prior to each series, a manager will designate one RP that can be used as a Long Man.   This RP is able to pitch as many innings as the manager wishes while following all other established league rules surround relief pitching.  The Designated Long Man can be a SP who did NOT have any relief appearances the prior year.  If a SP is used in this capacity, the SP will lose a start. 2) The SP in the current game was removed due to being downgraded because the SP allowed 5 ER over a 3 inning period. 3) The RP entering the game is the last available RP. 4) The RP enters a game that is in extra innings. 5) The RP reaches their limit with 2 outs in an inning.  The manager can allow the RP to finish the inning.  (This allows for manipulation of the rule but at least is forces someone to manage and make decisions). 6) The SP was removed due to injury or ejection. (Brandon) Withdrawn.
Limit On The Use Of HIT-AND-RUN PLAYS IN A GAME: 3 Times a game and one additional in EXTRA INNINGS. (Brandon) Failed, 4-6.
CHANGE THE TRADE DEADLINE – Move the deadline back to the end October.  This allows teams to have played more series and will allow teams to know if they are in the playoff race or not.  However, once the deadline is passed, no more trades can be made. (Brandon) Failed, 1-9.
Starting in 2017, starting pitchers will be limited to GS AND IP. (Brandon)  Withdrawn.
Starting with our 2017 season, limit all pitchers only by GS and batters faced (in relation to the current number of scheduled games plus 10%). Current rest chart still applies." (Brian) Tabled until mid-season.
Clarification – If we don't find a new manager for 2017, the Birds of Pray roster will be added to the 2017 rookie draft.
Following a brief break, we began our 2016 Rookie Draft with the Lemonheads selecting first. You can analyze the results on this spreadsheet.