Today we are analyzing the OOTL Top Prospect positions and team youth. Below is a chart showing the breakdown of the league's 20 prospect players by position. This year's breakdown is dead even with 10 Starting Pitchers and 10 position players. The majority of the Top 15 Baseball America prospects are protected. Only Trea Turner, AJ Reed and Andrew Benintendi remain unsigned.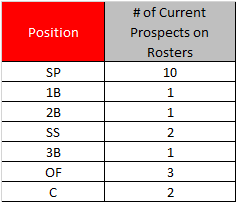 As far as the youth breakdown we chose 1990 as our base year. It seemed like only yesterday when in the 2013 draft Xander Bogaerts became the first Asian Tsunami born in the 90's. Now 1990 players are 25 and 26 years old. Unfortunately, time is going by too fast and we are all getting old. The following chart looks at the number of players per team born 1990 and later as well as the number of current Top Prospects on each team's roster. Some teams are fortunate to have 3 current top prospects on their roster but the delta is not significant overall.
However, there is a significant difference in the number of 1990 or later born players by roster. As you can see some teams use a draft strategy focusing on youth while others focus more on veteran or proven players. You can win both ways, but it is evident from the chart that some teams have built a strong base team for the future. Of course not all of this youth will pan out. The Tsunamis waited for years for Philip Hughes and Ian Stewart to be productive before pulling the plug. But certainly the teams loaded with youth today look much better on paper for next year and beyond at this point in time. The Speakers and Lyme Bees are both strongly focused on youth. Very interesting in the Lyme Bees' case as they were still able to get their first championship last season. Only the Eliminators, Shooting Stars and Asians seem unconcerned about transitioning their rosters. The Eliminators made a legendary effort last season to gain a championship and were severely handicapped in this season's draft. They are also one of the most loyal teams to their veteran players. The Stars had a recent championship with a solid core and have focused on building a Championship-competitive team annually since that year. Finally the Tsunamis are now in year three of their effort to gain an elusive 5th Championship. They have had several misses on youth due to injuries, traded picks in the effort to get over the top (it failed), and focused their 2016 draft on building a team which could win their 5th championship this season.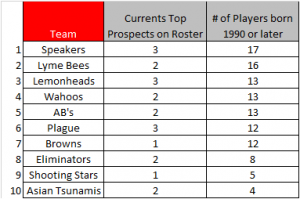 In the next edition we will elaborate on topics discussed here and address the "Flex 6" roster spots. We believe each team has basically 30 requirements for their roster. This includes 6 SP's, 6 RP's, 16 position players and 2 prospects. That leaves 6 players for draft strategy. Each team takes a different approach and, by doing so, they strengthen their teams in certain areas but also give up on opportunities in others.
ASSN