Cheater Cards:
Marcus Stroman was not carded this year but was a huge factor in the MLB playoffs. Had he had a couple more regular season starts would he have been called a cheater card? Chris Colabello started all of Toronto's post season games, batted .286 in the playoffs and was a key factor yet many would call him a cheater card. Steven Matz is a top prospect on everyone's list, started in the playoffs and World Series, but his Grade 20/3 start card would be considered a cheater card by most. Three seasons ago Michael Wacha and Xander Bogaerts were huge assets to their MLB teams in the playoffs and World Series yet in our league the next year many would have considered them cheater cards.
This is an inflammatory topic and debate with varying opinions in OOTL as well as outside the APBA community. The first issue is really what is a cheater card. That definition varies among APBA players. While most consider XB/J4 cards to be cheater cards if the card is valuable, others take that definition much further and include any veteran player J3 who has a card better than average and much better than their historical card. But is that player a cheater card?   Are high plus throwing catchers who are not starters all cheater card? Are all reliever pitchers with limited innings but strong grades cheater cards? Are top prospect starters with high grades and low starts cheater cards? Are John McDonald types a cheater card? As you can see the debate is a flawed one on both sides because the definition of a cheater card will vary by APBA player.
There is one proven fact regardless of the cheater card: whether a high-graded pitcher or a plus 17 vs. LHP, that player did perform at that level in MLB the previous season. He was a "cheater player" for his MLB team. On the other side of the debate a key additional fact is that those players did not necessarily perform at that level against all opponents or all pitchers though that is also true of every card. Most guys in MLB with +12+ vs. LHP did not hit as well vs. Kershaw as they did vs. Gio Gonzalez. So both sides have valid arguments for and against cheater cards. Our only opinion is you cannot vary the definition of a cheater card by the name of the player.  You cannot say a veteran over performing is one but a top prospect with the same type of card is not a cheater card.
The ASSN believes that cheater cards are not a problem in the OOTL because of our strict usage requirements and our limited availability (barring trades) of 34 active players per season. As you are aware, an MLB team averages 45+ players in a season and many crossover the 50-60+ barrier. These players for the most part have no usage limits and an MLB team's resources are endless. Since we have 34 spots (barring trades), any cheater cards added will mean the GM is sacrificing another area of the team. We will examine this in more detail in a future edition examining the Final Six rosters spots.
In the 2016 draft, our service identified 18 potential cheater cards drafted.
• Two teams, the Lemonheads and Eliminators did not draft any cheater cards.
• The Lyme Bees lead the way and filled out their bullpen with 4 RP cheater cards.
• The Tsunamis added three including 1 RP Hinojosa and two late position players Gutierrez and Rayburn to protect themselves against lefty starting pitchers. The Speakers surprising drafted three cheater cards but all three of them come with the asterisk. Severino is a top prospect though his value as a 4th game starter in the playoffs is undeniable. Hernandez also has to be considered a cheater card since it is one of the most valuable cards in the entire deck and Hernandez himself does not provide as much value in MLB. The asterisk has to be placed on Hernandez as he is a young player with upside who was a huge part of the 2015 Dodgers and started in the playoffs. Also being asterisked would be Joe Blanton. While the Speakers do not need his starts for the playoffs and his 13 grade relief appearances are not cheater-like, his two starts with a grade 13 RHSP/+42 control rating are definitely cheater starts. The Stars drafted 3 cheaters as well with two G4 playoff starters (again they are not cheaters as relievers but their playoff starts are cheaters) and Casali.
• The Wahoos chimed in with two: Colabello (an asterisk we discussed above) and Blanco.
• Three teams came in with one cheater starter all being game 4 playoff assets.
Speed and Moving Runners:
In the chart below we analyze two functions of moving base runners: fast runners and 31's. As you see three teams, the Browns, Plague and Speakers have well above average small ball teams. On the other hand, the Bees, Lemonheads, Wahoos, Asians and Stars will need to beat you with power or above average hitting to get to the next level.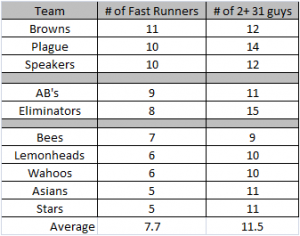 In the next edition we will look at Power and OBP!!
Asian Sports Network (ASSN)