Today our service will be evaluating hitting. It is the 4th offensive category we have examined that all factor into scoring runs. Our service believes that hitting in the OOTL has evolved to the point where it may be the most important of the 4 scoring factors. If you look at last season, the two teams which dominated the entire season and met in the Championship were also the two best hitting teams. The third best hitting team, The Plague, also made the playoffs. In the past it seemed like OBP, Power and Speed played a greater focus. The Tsunamis won 4 Championships but only 3 of them with good hitting teams. Our service is not sure that in the new OOTL this could be done again as easily. Last season's best Power and pitching team, the Wahoos, missed the playoffs due to struggles with hitting. We still do think that an average hitting team with great power, OBP and speed has a shot at glory, but it is much harder today than it was in the past. Some reasons include improved bullpens, the draft strategy evolution of cheater starters and relievers and the rules now limiting SB attempts.
Again, with this analysis we chose to take an easier directional approach rather than evaluating every number on every card in each team's lineups projected vs. lefties and righties. We decided to look at four factors: three of them objective and a subjective analysis only coming into play in one area. The areas being evaluated are as follows:
1) MLB Average +.300: We believe this area will capture the players most likely to have the extra 11's, 10's, E opportunities and RP's. These players on average will have less K's; and therefore, runners will be moved more easily.
2) 7 or better at 44: With our all-star staffs and bullpens, the 7 or better at 44 is a huge advantage over an 8. It shakes out the players who may be better in MLB than the OOTL because they were bogged with 10's instead of the 7.
3) 7 or better at 55: This is another bonus that usually is reserved to good hitters who do not steal. In the OOTL the 7 at 55 is a goldmine.
4) Pluses vs. L and R: This is the subjective analysis, but is an equalizer for players with significant 8's. A team with strong pluses can make up for deficiencies in the above three ratings.
Below is a chart based on our findings. The pluses category grade is either a plus, even or a minus representing each team's collective value and number of plus players. On another note, an interesting finding was that there are no teams this year which grade out terrible vs lefties. As we discussed in another report, there are usually 1-2 teams which will struggle greatly vs. lefties. There are certainly teams where it makes sense to pitch or not pitch a LHSP against this year, but all teams will have a good opportunity to compete.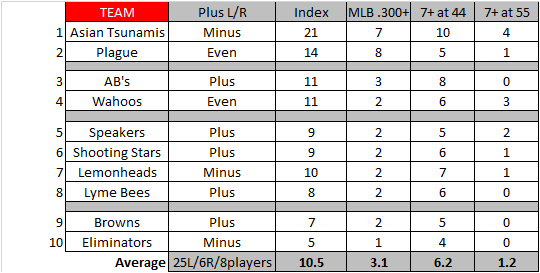 BEST HITTING TEAMS:
1) Asian Tsunamis: Once again the Tsunamis are at the top of an offensive category. This team is loaded with Power, BB and hitting. Our service believes they are positioned to break the OOTL runs scored record this season. The question is whether it will be enough to offset their opportunity areas. Their only hitting limitation is a lack of strong pluses and number of pluses vs. both RHP and LHP.
2) The Plague: The strongest in the league with the most .300 hitters are loaded with 11's. However, a below average number of 7's at 44 will cause trouble against top-rated pitching. The Plague will still be a strong hitting team and–combined with their speed and OBP ratings–will still score runs. The question mark will be whether that will be enough to overcome the lack of power and 7's at 44.
THE NEXT BEST:
3) AB's: With three .300 hitters and eight 7+'s at 44 this team looks strong offensively. Added to that is a large number of plus players with several large vs. splits. Combining this with strong OBP and speed grades should make for some interesting shootouts. Good enough for an "A" rating in most years but are in the "B" group to differentiate from the Asians and The Plague, which simply have more weapons.
4) Wahoo's: A huge improvement over last year's team in hitting. With 3 players having 7+ at 55 the Wahoo's should be strong enough to score many more runs this year.
AVERAGE:
5) Speakers: The Speakers head up this group and therefore the overall race has gotten much tighter. The 2 players with 7+ at 55 and a crew of strong pluses will make an impact, but with only 5 players having 7+ at 44 this team will go through some run scoring droughts. However, the Speakers strong speed and Power ratings along with the 7's at 55 should allow this team to still compete for one of the top spots. Their overall lead though has narrowed significantly from this category.
6) Shooting Stars: Right there with the Speakers but slightly below the next best group. A strong plus rating and additional 7 at 44 will be complimented by the Stars strong OBP rating.
7) Lemonheads: Docked a couple of spots due to limited pluses of regular players but basically tied with the two teams above from a hitting perspective. Lower BB and Power ratings will means less runs for this team overall.
8) Lyme Bees: Very close to the above three teams but no 7's at 55 this year will hurt run production. A huge step down this year for this team over last year.
THE REST:
9) Browns: Again no 7's at 55 hurt but a strong plus contingent will help push in runs. Overall limitation of 5 players with 7+ at 44 will cause some droughts. Moving runners will be key to the Browns success.
10) Eliminators: Another big drop off from last year. Only one .300 hitter and 5 players with 7 at 44 and none at 55 will make for many low scoring efforts. Again moving runners will have to be the equalizer for this group.
One thing we should stress is that there are many ways to win in the OOTL and many ways to engineer runs. No team is grading out overall where they have no chance to make the playoffs. Each team has different strengths and different opportunity areas. Trades can also change things dramatically overnight. The race for the top three seeds has now tightened up considerably. All other teams still have a shot at the 4-5 seeds. The Bullpen category remains as the main factor left to impact the overall ratings. In the next edition we will make a left turn and look at youth and top prospects. In this service's opinion, it takes a minimum of two years to build a championship contender; therefore, this will be an important analysis for the future as well as for the top teams as this group will also be trade resources!
ASSN